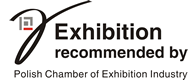 21.02.2018
For all lovers of greenery, GARDENIA is a must-see before the start of the new gardening season, as a place where new ideas will be born. The Fair is also an opportunity to see new trends that can be easily adapted to your garden. Interesting ideas for beautiful plant arrangements will be provided for example in Hall 6. You will find there show gardens prepared as part of the "Inspirational Arrangements" competition, which for years has been one of the most interesting attractions at the GARDENIA Fair.
19.02.2018
GARDENIA is a perfect place to learn about new varieties of plants and flowers, as well as a wide range of trees, shrubs, cereal, grass and vegetable seeds. In the exhibition halls you will also find new models of gardening tools and equipment.
16.02.2018
The GARDENIA Fair is a good place for both experienced gardeners and people who are just starting their horticultural adventure. Much valuable advice on the care of different plant species will be provided by Marek Jezierski, co-author of the "Rok w ogrodzie" ("A Year in the Garden") TV programme, who once again during the GARDENIA Fair will conduct a project entitled "Dream Garden Created with Passion."
More news
---

GARDENIA - The next edition: 2-4 march 2017, Poznań
.