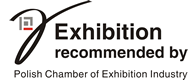 08.12.2017
GARDENIA certainly can be classified as a large-format exhibition which every year helps set new trends and directions of development for the horticultural industry. It is also a good time to summarize the current stage of development of the horticultural industry.
08.12.2017
GARDENIA belongs to the group of the leading gardening events of in Europe. − In our country it shapes the gardening market motivating companies to develop effective business strategies for the coming years − assures Jakub Patelka, Project Director. −
04.12.2017
Modern playgrounds, safe and comfortable outdoor gyms, swimming pools, saunas, garden tubs and spa & wellness areas, professional, natural and artificial surfaces, sports equipment, construction materials, modernization and equipment of halls, rooms, sports fields, tennis courts and skating rinks – these are the topics to be discussed at the unique event in the Polish market, the SPORT INVEST Sport and Leisure Industry Fair, which will accompany GARDENIA.
More news
---

GARDENIA - The next edition: 2-4 march 2017, Poznań
.