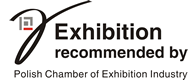 You are invited to business talks during fair by, i.a.:

05.12.2016
At the beginning of March 2017, in the capital of the Wielkopolska region, the entire horticultural industry will meet to present the latest solutions that help cultivate home gardens. Looking for the answer to the question on which of them will be the most functional, it is worth visiting the GARDENIA International Garden and Landscape Architecture Fair, which will be held on March 2-4 in Poznań.
28.11.2016
For visitors, the GARDENIA Fair will become a place and time of extremely intensive work. In the intervals between numerous business meetings, they will have an opportunity to take part in a number of accompanying events – lectures, workshops and live shows.
21.11.2016
During the next year's edition of the Fair, we are continuing the innovative formula for the prestigious award – MTP Gold Medal.
More news
---

GARDENIA - The next edition: 2-4 march 2017, Poznań
.