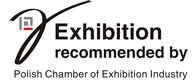 27.08.2018
The next edition of the GARDENIA Fair, the largest business event in the horticultural industry in Poland and Europe, will be held on 21-23 February 2019 in Poznan. By registering your participation in the GARDENIA Fair, you have a real influence on the direction in which the horticultural industry will continue to develop.
27.06.2018
We present You the latest issue of Poznań Fair Magazine. We invite You to read both its paper and online version. In this issue we present the distinguished guests who visited Poznań International Fair in the recent months, provide reports on the spectacular fair and events, and present Arena Hall, which joined the group of objects managed by the Poznań International Fair. And moreover…
28.02.2018
The GARDENIA Fair, which took place on 22-24 February in Poznań, proved that Polish horticultural companies can definitely conquer the world.
More news
---

GARDENIA - The next edition: 2-4 march 2017, Poznań
.