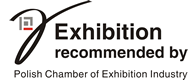 09.10.2017
During the 2018 edition, we will continue the HOSTED BUYER programme, the purpose of which is the development of the trading dimension of the GARDENIA Fair between Polish manufacturers and contractors from abroad.
02.10.2017
The advantage of the Fair is the extensive range of topics discussed addressed to professional visitors and wide audience the high professional level of accompanying events co-organised with partners from the horticultural industry.
25.09.2017
In 2018, The GARDENIA International Garden and Landscape Architecture Fair once again will prove that the horticultural sector is doing really well. The 12th edition of the most important event in the horticultural sector in Poland and Central and Eastern Europe, which will take place on 22-24 February in Poznań, is accompanied by a new motto, which is "Success is green".
More news
---

GARDENIA - The next edition: 2-4 march 2017, Poznań
.