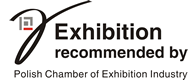 22.12.2017
You are cordially invited to the Kingdom of Sales at the second edition of the Congress of Horticultural Industry Leaders. If you want to get some sales knowledge you will have an opportunity to meet practitioners in the field of effective customer service, increasing the shopping cart value and effective product rotation.
20.12.2017
For the upcoming Christmas, we wish all our customers, partners and friends Merry Christmas, full of joy, the warm moments spent with your families, as well as health, positive energy, smile every day of the New Year and perseverance in the fulfilment of dreams.
15.12.2017
The new gardening season, which will be inaugurated at the GARDENIA International Garden and Landscape Architecture Fair, is approaching. The twelfth edition of the event will be held in Poznań on 22-24 February 2018. The time spent during the GARDENIA Fair will help you increase awareness among visitors and build a strong relationship with the customer.
08.12.2017
GARDENIA certainly can be classified as a large-format exhibition which every year helps set new trends and directions of development for the horticultural industry. It is also a good time to summarize the current stage of development of the horticultural industry.
08.12.2017
GARDENIA belongs to the group of the leading gardening events of in Europe. − In our country it shapes the gardening market motivating companies to develop effective business strategies for the coming years − assures Jakub Patelka, Project Director. −
04.12.2017
Modern playgrounds, safe and comfortable outdoor gyms, swimming pools, saunas, garden tubs and spa & wellness areas, professional, natural and artificial surfaces, sports equipment, construction materials, modernization and equipment of halls, rooms, sports fields, tennis courts and skating rinks – these are the topics to be discussed at the unique event in the Polish market, the SPORT INVEST Sport and Leisure Industry Fair, which will accompany GARDENIA.
28.11.2017
The deadline for submitting applications is 20 December! Do you have innovative horticultural solutions for the new season in your portfolio, which are made based on the top level technologies? Register your product/service for the GARDENIA Fair Gold Medal competition.
27.11.2017
The GARDENIA Fair is the most prestigious event in the horticultural sector, accompanied by an extensive programme of events. The three fair days will be filled with conferences, training sessions, and live workshops.