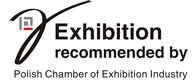 Acanthus Aureus Competition
"Acanthus Aureus" awards have become a tradition fairs organized by the Poznań International Fair. The organization of the competition - according to many of our partners - after several years of its operation in its current form requires significant changes. Therefore, please note that from 1 February 2008 contest for the "Acanthus Aureus" is based on the following principles:

• awards will be presented to exhibitors,
• awards are awarded for the best reflection of the company's marketing strategy in the trade fair exposition,
• participation in the contest is based on submissions made ​​by the exhibitors,
• notification to the competition is free,
• once a year, according to the PIF websites ranking will be awarded special prizes "Acanthus Aureus" for designers and constructors whose booth received the largest number of awards in the competition "Acanthus Aureus" during the year.
Contact:
Anna Smolińska
Corporate PR Team
tel. +48/ 61 869 21 09
e-mail: anna.smolinska
Download: